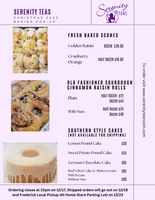 Christmas 2023 Baking Pop-Up
Ordering is now open for our fall pop-up! Place your order for baked goods, curds and loose leaf teas by 10pm on 12/17.
Shipped orders will go out on 12/19 and Local Frederick Pickup at the At Home Store Parking Lot will be on 12/23 from 1-1:30pm.
Order Now
A Word From Blanch
To my loyal customers,
Thank you for the past 15 years of support and love. As you know, I started my route to retirement as we closed the tearoom on November 30, 2019. I am truly enjoying having the downtime and being able to enjoy life with my husband and family. As you can imagine, I cannot live without my fine loose leaf teas. I think you all feel that way as well. Which is why I decided with the help of my daughters, Tiera and Angel, to continue to sell our collection online. You can order and have them shipped to you! We will also be adding on a few more teas over time. 
Follow us on Facebook for updates on when we are offering our scone pop-up's and then check back here to place your order!
Enjoy the website and continue to sip on your Serenity.
God Bless You,
Blanch Henry